Our Staff

Elise Leland, MD
Family Physician, Functional Medicine
When I'm not encouraging my patients to eat more kale, take their probiotics, and spend more time on things that make them joyful, I keep myself busy trying to do those very same things.  It gives me great joy to sing with the Touch of Class Chorale, take voice lessons, and also use my vocal skills to embarrass my teenage daughters by spontaneously breaking into song.  I grew up playing the cello, and still love being a cellist, but it's harder to fit that in while I'm in the shower. When music doesn't cut it, I love to walk outside and to garden, and I tend to combine these passions by peeking in my neighbors' yards, trying to figure out what plant that is and where I can get one for my yard.  I also love attending the myriad of events my wonderful daughters participate in, from concerts to plays to fencing or debate tournaments.
I never considered being a doctor when I was growing up. At various times I wanted to be a cellist, a mathematician, a florist, a teacher, a graphic designer, and a counselor.  However, my training in understanding biological systems began early, as my parents both had biology degrees and met working in a microbiology lab at Harvard Medical School.  Two decades later I ended up going to Harvard for my undergraduate degree, with a major in anthropology.  (I know, not the most useful degree, but nothing fascinates me more than people.)  By the end of college, I knew that I wanted to be in a field that allowed me to work with people directly.  As I looked into the various "helping professions," I was captured by the idea of medical school as a training ground that would grant me the power of medications as tools to help people, as well as the experience of caring for people through the most difficult times in their lives.  Attending the University of Washington turned out to be a great choice for me as I realized Family Medicine was my calling, and UW is consistently ranked in the top medical schools in the country for Primary Care.  I love the chance Family Medicine offers me to see all kinds of people for all kinds of problems, and to know people and their families over time. Many years and a bit of disillusionment later, I'm still humbled by the opportunity to walk with my patients through the good times and the bad.  I seek to treat each of my patients with respect and kindness, because all of us deserve that.
Kenneth (Ken) Meigs, DO
Family Physician, Functional Medicine
I earned my doctor of osteopathy degree from Western University of Health Sciences in Pomona, California.  I then went on to complete my internship and residency at Eastmoreland Hospital in Portland, Oregon.  I am board certified in Family Medicine. Prior to joining Orchards Family Medicine, I worked with Adventist in Happy Valley, OR. and Creekside Family Practice before that.
As a family practitioner with twenty years of practice experience, I enjoy the "family aspect" of taking care of multiple generations, seeing the family dynamics and being able to get to know patients and their loved ones in a unique and wonderful manner.  As an osteopath, I understand that the body and mind are integrated.  I try not to focus on a specific problem issue, but treat the individual as a whole, for a more complete healing process.  This approach and style of care is the core of Orchards Family Medicine which makes me very excited to be joining their wonderful team. 
I am a native of the Northwest.  I am married to my high school sweetheart and have three sons.  I enjoy music and attending live concerts and sporting events.  I enjoy spending time with my family, hiking, climbing, rafting and helping out with my children's extra-curricular activities.

Kristi Criswell, MAOL, FMCHC, NBC-HWC
Health Coach
I was invited to join the Orchards Family Medicine team in 2013 and I couldn't be happier.  I earned my master's degree in organizational leadership at Lewis University in 2013 and completed the Functional Medicine Coaching Academy early in 2018 to become a Functional Medicine Certified Health Coach (FMCHC).  In August 2018, I earned the title of National Board Certified Health & Wellness Coach (NBC-HWC).
My husband and I combined our families in 2007 and have three children between us (now all teenagers!) and our spoiled dog.  We love spending time with our family, whether it be while sitting around our backyard fire pit, camping, road-tripping, or gathering for good old-fashioned family dinners.
I am a bit unique as a staff member here, because I started out as a patient in the Immune Balancing program (Functional Medicine) in 2012 after having been a patient of Dr. Leland's since 2005.  I have been through the program, and it has impacted my life so positively that I wanted to work with Dr. Leland and help others reclaim their lives.  I am looking forward to creating more individually focused patient education, helping others to optimize their diets and supporting them to reach their health goals.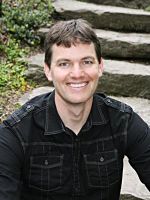 Ernie Leland, BA
Business Manager
Growing up in a family of entrepreneurs in Montana, I originally planned to get my bachelor's degree in business from the University of Washington and return there to take over my family's grocery business.  Instead I got my foot caught in the door when I met my wife, Elise, as she was applying to medical school. After I graduated, I took a job at a large consulting firm but soon realized that the corporate world was not for me—too slick, too focused on making as much money as possible rather than making a good living and providing a good value for my client.   With our first daughter on the way and Elise in medical school, I didn't get long to float and find myself, so I soon started working for a custom homes contractor.  I love to build things (buildings, businesses, gardens, sculptures, you name it) so this was actually a good fit for me, and after a couple years I opened my own business doing high end remodeling. 
When we moved to Vancouver for Elise's residency training, I continued contracting for a while, but when she graduated in 2005, I encouraged her to open her own practice and joined her in doing so. We took a crash course in medical billing, electronic medical records, and all the crazy, unique aspects of the medical business world, and opened Orchards Family Medicine on August 1, 2005.  
A personal note about food allergies: In 2012 I was trying to provide massage therapy to more patients, but found myself limited by joint pain and muscle tightness that was far out of proportion to the demands I was putting on my body.  Up until then I had assumed that the slow slide in my health and energy was due to stress, or just getting old.  However, we discovered I was allergic to yeast, and later also discovered allergies to dairy, eggs, and a few other foods I sometimes still think of longingly.  I have gone through treatment for viral infection and yeast overgrowth, and now react much less if I do sneak a little cheese now and then.  It has been hard to give the foods up, and to take all the meds and supplements Elise has recommended, but it has been more than worth it.  I've gotten relief from my pain, but even better I've regained my sense of strength, energy and focus.  I encourage my friends and family not to chalk it up to "getting old" and to start looking into what they can do to feel better. 
Rebecca Matilla, CMA
Medical Assistant
I joined Orchards Family Medicine soon after it began, in the fall of 2005.  I knew Elise when she was a resident and she cared for me and my family.  Having just finished my MA degree, I was happy to relieve Ernie of phone duty and provide Elise with the necessary medical backup and have enjoyed watching the practice grow over the years.  Because I have been here almost since the beginning, I've gotten to know many of our patients and watched way too many children grow up way too fast, which my own have done as well.  Both my son and daughter are out on their own now.  I handle many of the primary care aspects of our practice: sending referrals, getting prior authorizations for medications and imaging studies, keeping our patients up to date on recommended screenings and labs, and helping to triage our patients' medical needs as they call in with problems.  I love camping, collecting antiques and learning about history, especially the World War II era.
Carmen Wright, CMA
Medical Assistant
I've been with Orchards Family Medicine since 2008, when my daughter was just a baby and my son was 7, so I too have gotten to know a lot of our patients over time.  Because my daughter has severe food allergies, it has been a natural fit for me to be involved in the development of Orchards Family Medicine's treatment program for environmental and food allergies and sensitivities. I'm in charge of tracking the testing and treatment of the chronic infections that frequently come with allergies.  I also help triage patient needs as they call in, and support our providers by drawing blood, giving immunizations, performing allergy skin testing. As a single Mom I don't get much free time, but when I do, I spend it at home enjoying my family. I rode horses growing up, and may yet get back out to the barns to follow that passion.